Ojal
Dental Care for 21st century

Implants
We specialise in implantology. Where other doctor fails, we are able to succeed.

Root Canals
Where other dentists fails, we win. Our overall success rate is 99.5% for saving your tooth.
Dental Hygiene
In one of our 3 rooms, we will teach you how to take care of your teeth properly.

Tooth Whitening
We use all the best instruments possible on the market, so whitening your tooth is lightfast
Braces
Dont worry, we will make your smile great again, effortles and without any pain
We take care of you
Modern and newly opened dental clinic, Ojal Dental Care, offers elite world-class care to their patients. Owner of clinic is Bhisma Shrestha, a great person who is determined for taking care of proper oral health issues.
Strong Team
We employ only the cream of the cream in the field of dentistry.
Advanced technology
We use IOPA X-ray on regular basis
Years of experience
So you can be sure, that you will have the best care available
We are available
Any kind of oral health issues will be taken care by the expert dental surgeons. We are ready to help you anytime you need.
Emergency Case
In case of emergency, we are ready to serve you in any time possible.
Opening Hours
Sunday - Friday9am - 7pm
---
Saturday9am - 2pm
Dr. Bikash Veer Shrestha
MDS, BDS (Orthodontist)
Ramila Thapa
Dental Hygienist
Bhisma Shrestha (DH)
Managing Director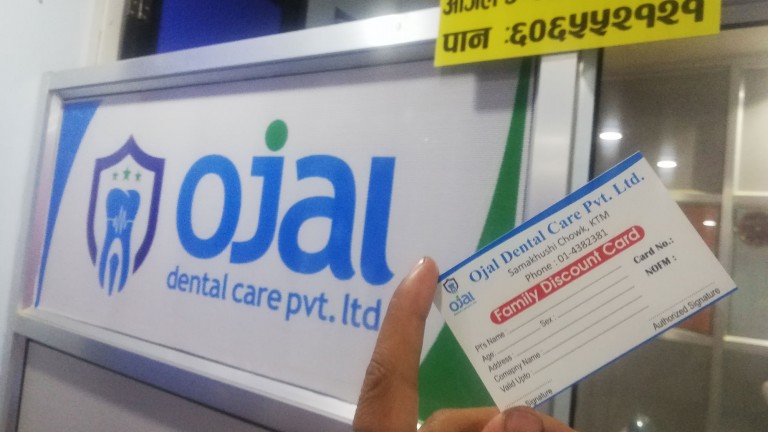 पारिवारीक सहुलियत कार्डको फाइदाहरु : १)दॉत सफामात्र रु. ५०० मा । २)नागरीक बडापत्रमा भएको उपचारहरुको शुल्कहरुमा एकमुष्ट २५% छुट ।…